"Ever wonder where you'd end up if you took your dog for a walk and never once pulled back on the leash?" ~Robert Brault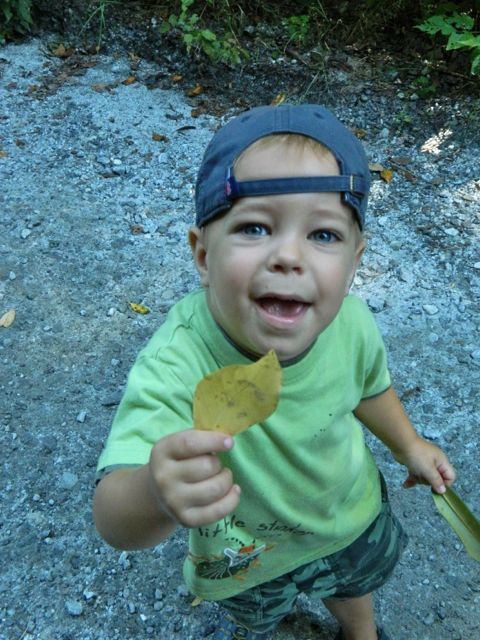 My family went to the mountains for a couple of days this weekend. The weather was a glorious 20 degrees cooler than at home, and the sounds of crickets and tree frogs lulling me to sleep was just the peaceful respite this soul needed.
On Friday morning, we decided to take a short hike up to a rock face that overlooked the lovely mountain town of Highlands, NC down below. We started off with the end in mind. We weren't 100ft into the 3/4 mile hike when my 2 year old stopped to pick up a "cool rock." To me it looked like a piece of gravel, because it was, but to him, it was something valuable. Another 100 ft and we were stopping again…this time for a curled up dead leaf…wildly valuable goods indeed. Our pace continued like this…starting, stopping, starting, stopping. I could feel the tensions rising from both my husband and myself as we exchanged glances that said, "This is going to take FOREVER!"
We tried picking up the pace, we tried making up games to get our kids to "race" up the trail, we even tried pointing out things that would seem more interesting farther ahead of us to create a sense of rush.  Nothing worked.  So, we started and stopped and started and stopped.
About halfway up the trail, the thought occurred to me that I'm awfully glad God isn't so impatient with me as we walk along this road of life.  He lets me stop and mill around…smelling the proverbial roses, if you will, along the way.  He lets me pick up a nugget here and there, and if I find value in it, he lets me keep it.  He doesn't rush, or push, or try to trick me into going at a pace that makes me lose sight of all that's around me.  He stays in step, encourages me that there's so much more ahead, but then allows me to make the pace.  He knows what amazing things are in store, but he's not going to try to force me to want it either.
Somewhere in our walk, I felt my throat loosen and the tension ease.  I held out my hands to collect the treasures my kids found along the way…rocks, and ferns, feathers and flowers, and even a snail shell.  And when we reached the top, we had more to enjoy than just the view…we had the collection that had been made from the things we gathered along the way, the items that told the story of where we'd been on the way to the top.
And suddenly, I realized that the journey was just as important as the destination….that the journey holds so many gifts for us too.
      You make known to me the path of life;
      in your presence there is fullness of joy;
      at your right hand are pleasures forevermore.
~ Psalm 16:11
       Lead me in the path of your commandments,
      for I delight in it.
     Incline my heart to your testimonies,
      and not to selfish gain!
      Turn my eyes from looking at worthless things;
      and give me life in your ways.
~ Psalm 119:35–37
      And I will lead the blind
      in a way that they do not know,
      in paths that they have not known
      I will guide them.
      I will turn the darkness before them into light,
      the rough places into level ground.
      These are the things I do,
      and I do not forsake them.
~ Isaiah 42:16
We too often forget that I think….that the journey sometimes holds as much wealth for us to collect along the way.  That the destination in itself is only part of the gift.  We want to rush and get to the end. We want a fast-food life…where we get what we want, how we want it, and immediate delivery too. But that's not really what we want is it? I mean, a meal from a lovely restaurant where we wait and delight in the passing of time will almost always surpass the stuff in a paper bag from a drive-thru…in both flavor and experience. 
That's the life that I want.  The one with the amazing view from the top, coupled with the treasures from the journey.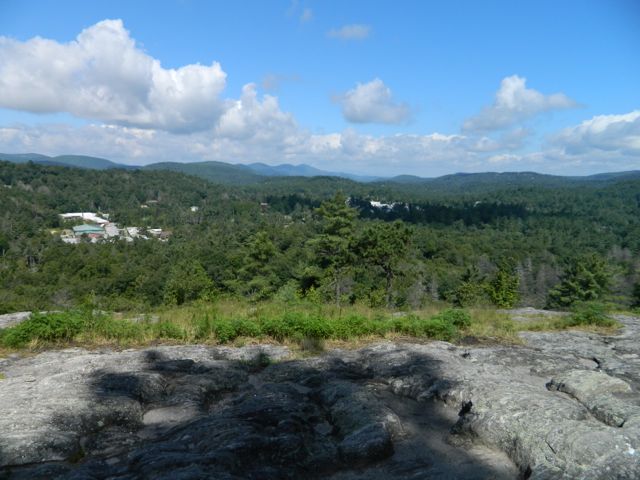 And sometimes we even have to be reminded of our own inspirations…
 that "This life is our only dessert….too brief, too sweet, and too delectable to hurry through."
– Ann Voskamp