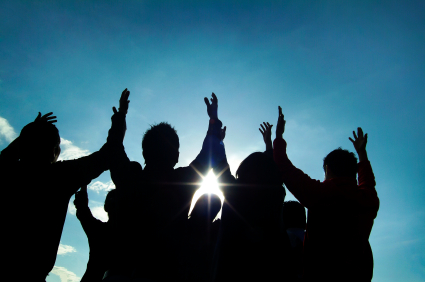 Many of you know about, and are perhaps even participating in, the 21 day fast that I felt the Lord calling us to a few weeks back,  It began on Friday, and I have spent a pretty significant amounts of time just talking with the Lord since then…and praying.  Lots of praying.
My church is a seriously praying church.  Not to say that others aren't, but I can honestly say that this particular body of believers spends significant amount of time in prayer.  And it's this kind of prayer that shifts the atmosphere.  I'm not kidding, you can really physically sense a change in the air when these people begin to pray.  I love everything about it.
There was a missions summit at my church this weekend.  We went to meet and hear from some of our church's global ministry partners on the work they are doing in other parts of the globe.  I wasn't in the mood really to go, but my husband wanted to, so we did.
Isn't it those times though, when God grabs you right where you needed it?!
I had a moment during the summit…it was that kind where your mind is taking almost a mental snapshot of a scenario. The entire  group of attendees gathered around and began to pray for a missionary from Haiti.  Everyone was praying…some quietly, some out loud…but all really pressing in to hear the Father's heart for this missionary family.  Then, a missionary from India began to pray over the Haitian missionary.  He was praying in his native language…full of words I didn't understand, but thick with the spirit of the Lord.  You could feel it.  And I thought to myself….this is what it looks like in heaven.  All of God's people together…unified…with one heartbeat.
But, right now, here we are on the earth…wanting to bring His kingdom here.  Wanting to see His will be done HERE.  On earth as it is in heaven.
At one point, one of the missionaries asked that if out of 24 hours in each day, we could devote just 5 minutes to pray for India?
Five minutes is really not very much time.
In Daniel 9:4-19 , Daniel offers a prayer to the Lord on behalf of his people.  A missionary from South Africa read the prayer, but before he began to read, he asked for someone to time him as he read.  It took just 2 1/2 minutes to read Daniel's prayer to the Lord.
And the thing that happened shortly afterwards in the scriptures, I've read several times before, but not given too much pause over it.
"Then behold, a hand touched me and set me trembling on my hands and knees. He said to me, "O Daniel, man of high esteem, understand the words that I am about to tell you and stand upright, for I have now been sent to you." And when he had spoken this word to me, I stood up trembling. Then he said to me, " Do not be afraid, Daniel, for from the first day that you set your heart on understanding this and on humbling yourself before your God, your words were heard, and I have come in response to your words. But the prince of the kingdom of Persia was withstanding me for twenty-one days; then behold, Michael, one of the chief princes, came to help me, for I had been left there with the kings of Persia. Now I have come to give you an understanding of what will happen to your people in the latter days, for the vision pertains to the days yet future." – Daniel 10:10-14
This 2 1/2 minute prayer set into motion an EPIC battle in the heavenlies.  This angel who was sent to bring clarity to Daniel was detained for 21 days in battle.  And… it was so epic that Michael had to come help.  Even after the angel delivered the meaning of the prayer, verse 20 says that he and Michael are headed right back into battle when he leaves Daniel.
Our prayers have the power to unleash the heavenlies.
Did you hear that?
Our prayers have the power to unleash the heavenlies.
If all that can happen from just 2 1/2 minutes….imagine what can happen in 5?!  Imagine what can happen in 20?!  Imagine, my sisters, what can happen when we pray and fast for 21 days?!
"Prayer is not the least of things you can do.  It is the greatest thing you can do." – Rich Hodge
*Have you ever thought about it like this…that even our 2 minute prayers can literally wage major war in the heavenly realm?!  And now that you are thinking on it….Well, what are you thinking?!