A good friend on mine just accepted an exciting new job position. They've been waiting on God's good timing for a while now and this week they received the offer and accepted!
I've stood in their shoes many times. The promise of a great new job is exciting. A new future awaits and preparation for this new life begins.
The job has been given to me…but it is not quite mine yet.
A Lesson on Salvation
I'm sharing a bit about interpretation today, and the importance of getting it correct.
(Can't view the video? Click here.)
There are a few "big picture" theological ideas that I have found extremely helpful in my efforts to "interpret scripture with scripture", especially when studying passages on salvation. There is one four-worded phrase that you need to know:
Already…but not yet.
We are already "saved"…but not yet.
In order to better understand this, it is helpful to know three different components to our salvation. Justification. Sanctification. Glorification.
I know these are big words, but they are are important, so stick with me!
Justification is what has happened. In that glorious moment when the Lord invaded my heart and made me His own. I was given right standing with a Holy God, and was saved from the penalty of my sin, through Jesus Christ!
Sanctification is what is happening.  I am being made holy, and becoming more and more like Christ. I am being saved from the presence of sin.
Glorification is what will happen. One day I will meet my Savior and on that great day I will be rid completely of sin and all of the promises of being His child will then be fulfilled.
Studying 1 Peter 1:3-5
Let's take a look at this week's passage, with this "already…but not yet" running in the background, and see how it affects our understanding of the passage.
Here is my "dissection" of 1 Peter 1:3-5. Your's probably looks different, and that is fine. Each of our brain works differently!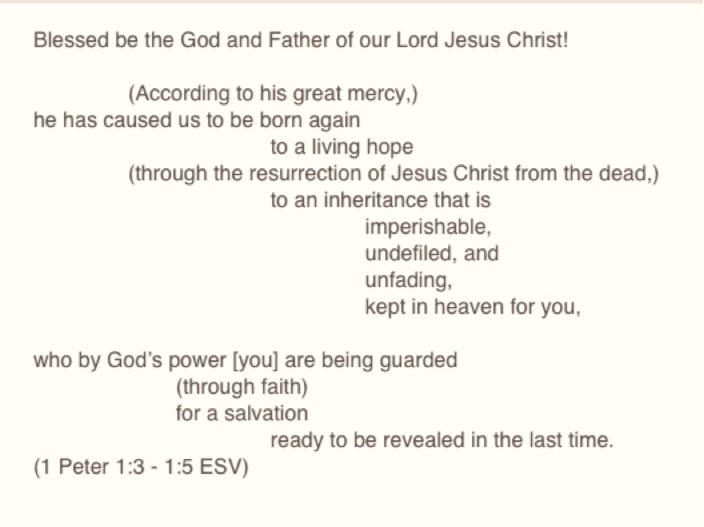 God has caused my salvation.
According to his great mercy, he has caused us to be born again to a living hope through the resurrection of Jesus Christ from the dead,
(1 Peter 1:3 ESV)
This is when justification happened. God, because of His great mercy, began the process of my salvation by declaring me righteous, through the work of Christ.
He is guarding me for salvation.
…who by God's power [you] are being guarded through faith for a salvation ready to be revealed in the last time. (1 Peter 1:5 ESV)
My all-powerful Savior and Creator is bringing to completion what He started, and His Spirit is in me carrying out this work. I am being sanctified to become more and more like Jesus. I am already righteous in the sight of God, but I live in this sinful body, with my sinful tendencies and I must fight against it every day.
Like newborn infants, long for the pure spiritual milk, that by it you may grow up into salvation—
(1 Peter 2:2 ESV)
Just like the good momma who guards a toddler as they stumble their way toward figuring out how to walk, God is guarding me as I learn to put feet to my faith and "grow up into salvation".
God has secured my future salvation.
…to an inheritance that is imperishable, undefiled, and unfading, kept in heaven for you…(1 Peter 1:4 ESV)
Glorification awaits me. I have a living hope in a very certain future with God.
And I am sure of this, that he who began a good work in you will bring it to completion at the day of Jesus Christ.
(Philippians 1:6 ESV)
This hope is not a "I hope it doesn't rain!" or "I hope my son will be potty trained by the fall!" This is a confident expectation that what is promised will happen.
The Great Rescue Plan
God has set into motion a rescue plan in my life. I have been saved from the penalty of my sin and have been declared righteous before God. Positionally, in the eyes of God, I am saved.
You are too, friend.
But, I have a long way to go in my journey of becoming more like Christ. God has left me on this earth for a purpose, as I prepare for my eternal destination, and He is sustaining me throughout the journey.
He is sustaining you, as well.
So, yes, I have already been "given the job" and a great and glorious future awaits me…but my "start date" is not yet here and I don't know when it will be. I am to walk by faith that it is coming, and grow up into the salvation that I have been given while I wait.
Let's be ready for when He calls, ladies!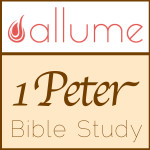 What did you learn in your studies this week?