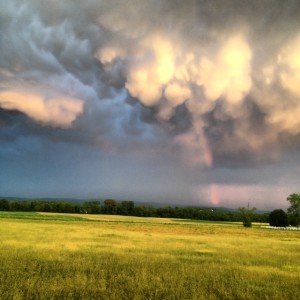 I said yes to God the other day, driving home from work on a Tuesday. For once in this dreary PA spring it wasn't raining and I was thinking about how beautiful the sky was. Randomly, in the  middle of that thought, in my heart I heard: "I want you to speak."
Maybe now is a good time to fill in the blanks.
God isn't just asking me to talk more at work or at home. He was asking me to put myself out there and offer to speak His truth to a group of high school students in Western PA. Sound scary? Yeah. It is. The worship band that I'm blessed to manage has the opportunity throughout the year to play at youth events, and I'm not being biased at all when I tell you these guys are amazing. God glorifying men who love to use the talents He gave them to share Truth? It gives me chills.
Occasionally we'll also be asked to speak at one of these events, and either Nick, our electric guitar player, or Chris, our drummer, will share their testimony and speak to the theme of the event. I usually prefer a back stage role.
Did I mention that God asked me to speak? And I said yes? Oh and the theme of the event?
Fear. 
In the time it took me to finish my drive home I had thought of a few good examples I could use – degrees of fear that I've experienced. I even thought about sharing with them how hubs (our bass player) and I met, tried to think of funny "openers" and solid verses to encourage them, like Joshua 1:9 "Be strong and courageous, the Lord your God will be with you wherever you go" (my life verse). And then I got scared.
And the enemy started with the "what ifs" and I almost didn't even tell my husband about it. But I did. And he was supportive. So I sent a text to see if anyone was giving the talk at our show. Ahem. See what I did there? I got nervous and didn't say "Hey guys, God wants me to do this talk" – which they would have supported 100%. I asked if anyone else was doing it. And someone is, because they always do. So I didn't say anything else.
If you were hoping for a fairy tale ending, I'm not your girl. My journey in my relationship with Jesus is beautiful, but not perfect. 
I said yes to God. In a "baby steps" kind of way I can be ok knowing that I received His request with an open heart and tried. I won't consider it a failure that I'm not in front of those students this time. But you can bet I'll be praying for courage, a new opportunity, and the chance to use this story for His glory.