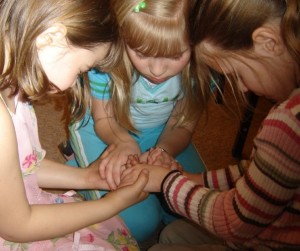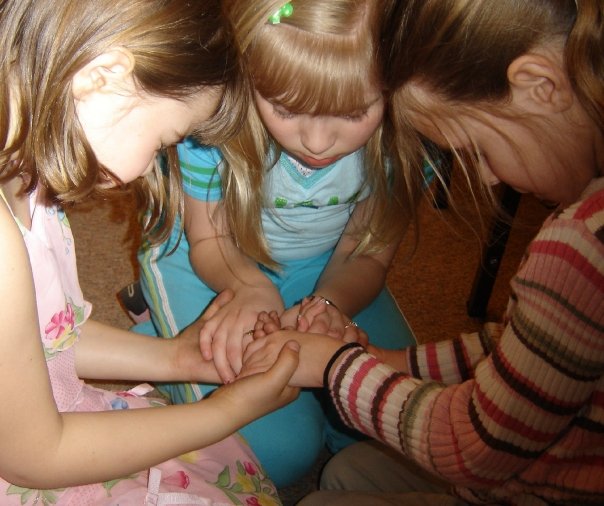 I went to the lake for an overnight this weekend with a group of girlfriends to celebrate my friend Christi's birthday.  It was such a sweet time together.  I LOVE my girlfriends.  Love them!
I got to thinking too, how I have been really fortunate that in most points of my life, I have had at least 1 really dear friend nearby.  Many seasons, I've had several at a time…rich with heart friends.  That's just not normal I don't think, and the blessing of it isn't lost on me for a second.
My friend Madison taught us all how to do the "Wobble"… some crazy booty dance where we lined up like a bunch of silly pre-teens and laughed til we cried learning how to do a series of ridiculous moves.  Next was the free-for-all dance party and more laughing.  I even broke out a real ace-in-the-hole when I shared the awesome choreography that Rebecca Kirkland and I made up in the 7th grade to Bobby Brown's "My Prerogative."  I bruised myself trying to bring it back to life.  Apparently, I've gotten too old for 7th grade dance moves.
Winded and barely breathing from hysterical laughter, we all toned it down a notch with some junk food and cozy chair conversation.  And when the hours really started rolling by and silly made way for more serious, we spent time just praying together.
It was Christi's birthday, so we sat and listened to the Lord for encouraging words and scriptures for her.  We prayed over struggles we knew she had, we cried with her, we laughed with her, we lifted her up before the Almighty, and ya'll…it was a sweet, sweet time.
How often in our lives, do we not literally stop what we're doing to pray together for a friend or with a friend?  How often does a friend confess worry over something and we say "I'll pray for you about that," but then we both just go on about our day and maybe offer up a "Jesus, help her" later on?
I'm convinced that while silliness like doing the "wobble" and being fully myself with other people is valuable, there's just nothing that knits hearts quite like praying together.
It's the moment you're floating on a massive party tube in the lake when you realize another friend is in an appointment at that same time, and you all close your eyes and lift petitions to heaven on her behalf as the waves bob you up and down.  When one of you struggles with self doubt and needs to move away from the group to be alone for awhile, and instead of sitting around and talking about her, you stop silly chatter and pray for the Father's love to fall and reveal his pleasure over her in her time away.  It's when that neck muscle that's been bothering sends you to bed early, and your friends come get you to pray for the Lord's tenderness to ease your muscle pain….Those are the moments when hearts knit tightly.
"Is anyone among you suffering? Let him pray. Is anyone cheerful? Let him sing praise.  Is anyone among you sick? Let him call for the elders of the church, and let them pray over him, anointing him with oil in the name of the Lord.  And the prayer of faith will save the one who is sick, and the Lord will raise him up. And if he has committed sins, he will be forgiven.  Therefore, confess your sins to one another and pray for one another, that you may be healed. The prayer of a righteous person has great power as it is working.  Elijah was a man with a nature like ours, and he prayed fervently that it might not rain, and for three years and six months it did not rain on the earth.  Then he prayed again, and heaven gave rain, and the earth bore its fruit.
(James 5:13–18)
"Again I say to you, if two of you agree on earth about anything they ask, it will be done for them by my Father in heaven. 20 For where two or three are gathered in my name, there am I among them."  (Mt 18:19–20)
And my thought today, and my question to us all, is…. what makes you a good friend to someone else?  Do you truly pray for your friends?  Do you stop what you're doing to pray with your friends?
      A man of many companions may come to ruin,
      but there is a friend who sticks closer than a brother. (Pr 18:24)
Are you loyal?
      Oil and perfume make the heart glad,
      and the sweetness of a friend comes from his earnest counsel. (Pr 27:9)
Do you offer wise and godly counsel?
       This is my commandment, that you love one another as I have loved you. Greater love has no one than this, that someone lay down his life for his friends.  (Jn 15:12–13)
Will you put the wellbeing of others before your own pride?
(After Peter and John stood before the Council,) "When they were released, they went to their friends and reported what the chief priests and the elders had said to them. And when they heard it, they lifted their voices together to God and said, "Sovereign Lord, who made the heaven and the earth and the sea and everything in them… grant to your servants to continue to speak your word with all boldness, while you stretch out your hand to heal, and signs and wonders are performed through the name of your holy servant Jesus." And when they had prayed, the place in which they were gathered together was shaken, and they were all filled with the Holy Spirit and continued to speak the word of God with boldness.  (Ac 4:23, 30-31)
Do you pursue the Father, speak with boldness, and pray expectantly together?
The silly dancing is fun.  The hilarious conversations are needed.  The junk food indulgence shared makes the guilt lessen a little too!  But it's the time not just walking through life, but praying through life together, that I think really make friendships even sweeter.
Pray together… Praise together… Raise one another up before the Father… Confess together… and Believe for the impossible together, for with God, all things are possible.
Be the kind of friend you want to have.
Photo Credit : PassionateHomemakeing.com