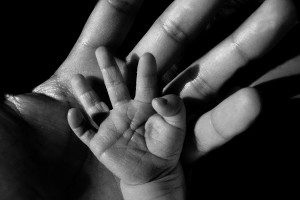 "Yes please, I'll have the epidural….like, NOW!"
Lessen the pain of childbearing, right?  And then I ended up with a csection even after all of that.  And there was different pain because of it.
"And there will be pain in childbearing."  It's a part of that original punishment for original sin in Genesis 3.  Try as we might, medical science won't ever really erase the pains of childbearing though will they?  I mean, if an epidural is all it would take to erase an original punishment, well, then it sure would seem that humanity would have outsmarted God huh?
Not likely.
Spend any amount of time with a group of moms, and at some point, the conversation will inevitably end up with a few sharing childbirth stories.  No matter if you dominated natural childbirth, or planned a csection, things never really do go exactly as planned.  Genders are a surprise whether you find out at 14 weeks or at 40,  jaundice or trouble breathing, cords wrapped around necks, or babies pointed the wrong direction….we have very little to do with what goes on with the miracle of life.  Sure, we can do things to make it better or worse…eat only organic and take fish oil every day, or make choices that would put babies at risk….but no matter what, things just don't always go as we planned.
By this point in my devotional writing career at Allume, most of you all know that I lost my 4th baby in March, 16 weeks into pregnancy.  This wasn't my first Mother's Day spent with the "pain in childbearing" staring me down either.  Even with 2 sweet boys here on earth to celebrate, the 4 of mine in heaven are somehow closer feeling on this day where we celebrate motherhood.
And as I've processed these places of pain, I've realized that pain in childbearing isn't just a physical thing…and it isn't just for those who actually have birthed children either.
I looked up the word for pain used in Genesis 3:16 and it appears that in the original language, it also means "to toil or sorrow."
Mother's Day is such a celebration.  A day to be thankful for the mothers we have and to be thankful for motherhood we've been given.  But honestly, it's a day where there is mourning for motherhood lost too.  Motherhood that try as some might, just doesn't come.  No number of counting days or fertility treatments produce children in the end.  Maybe it's pregnancies lost….or children gone before time seems fair or right.  Or when our own mothers may have passed….and we remember the love with them, or maybe it was a broken relationship with your mom and you just remember the lack of love.
Whatever it is, there is pain in childbearing.  There is pain in childrearing.  There is pain in the wanting, and the waiting, and the raising of our children.  It's not just the physical.
But there is blessing to be found in all of it too.  Blessing beyond what I could ever know without walking through some of the pain.  There is blessing in knowing that these ugly looking stretchmarks brought forth life.  There is blessing in the days even when motherhood is overwhelming.  There is blessing in the community of motherhood, and there is blessing in the ministry I can have now even walking through the loss of babies.
Our pastor said in church today that "what God wants to do through us, He first wants to do in us."
There is no job I've ever known more refining than that of motherhood.  No thing that has brought me to my knees more than raising children, and losing children, and trying for children.  There is no pain greater than this walk of being a mom, but there is absolutely nothing I've done that has blessed and challenged me more either.
And in the end, I hope and pray that the greatest blessing I bring to my children is to teach them diligently the ways of the Lord (Dt 6:7).  I want my children above all things to love Jesus.  But… what the Lord wants to do through me, he first has to do in me.
If I want to raise warriors, I must teach them courage from walking in it.  If I want to raise gentlemen, I must exemplify to them gentleness.  If I want them to seek out a wise and loving wife, I must show them first what that looks like.  We are the gateway to the way our children see the world…and the way they see our amazing God.
What God wants to do through us (in raising our children), he first wants to do in us.
Humbling….
      She opens her mouth with wisdom,
and the teaching of kindness is on her tongue.
She looks well to the ways of her household
and does not eat the bread of idleness.
Her children rise up and call her blessed;
her husband also, and he praises her:
Pr 31:26–28
Oh….to do that well.  To raise children who call us blessed.  To take the pain of childbearing and turn it into blessing by holding tightly to a Father who oozes goodness.
 The word "Redeemer" (and variations thereof…redeemed, redeem, etc) came up 141 times in the Bible when I looked it up.  He's in the business ya'll of taking even the original punishment and giving us new life.  There is no epidural that can redeem the pains of childbearing….but our Heavenly Father certainly can.
Happy Mother's Day to you all. (even if it was yesterday!)