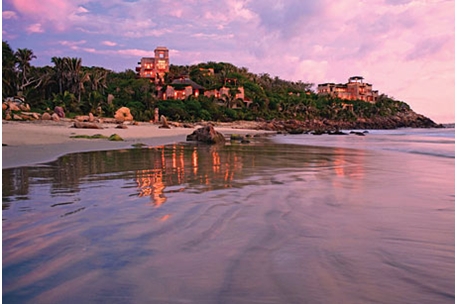 Sometimes I wonder if God didn't gave himself a serious pat on the back on the seventh day.
I mean really, no matter where you live, there is major beauty to be found in creation.  I don't know about all of you gals, but for me, getting out in the midst of creation…especially in those places that really take your breath away, boy can I find the Lord there.  I see Him everywhere I look.  I feel His bigness in the majesty of creation, but His approachability in the attention he pays to every tiny detail.  And when I take the time to be still, I can hear Him especially well too.
My mother says that I have a tendency to "burn the candle at both ends."  You know, to fill my schedule, stay busy, sometimes bite off more than I should chew (even if I CAN chew it.)  And, in all fairness to this stage of my life, it's easy to do.  Small children, involvement in ministry, the occasional decorating job, and whatever other random thing I might decide to do can fill my time and if I'm not careful, wear me down.  When life throws you a curveball sometimes and really makes everything crazy, sometimes you have to do some serious regrouping, rethinking, asking, understanding, and reconnecting to begin to feel normal again.
Sometimes friends, things can get better with just a step outside your own front door.  But once in awhile, what you need is a vacation.
I'm about to take one.  The timing really couldn't be more perfect, and nearly desperate after the month we've just endured.  To know that I have the chance to be still and listen in a beautiful place, well, that kind of time doesn't come easily does it?
But the Lord tells us to make that time, and to use that time to find refreshment with one another and in Him.
He's the still waters. He restores souls, and He says that sometimes what we need to do is to just "be still and know" that He is God.
Now listen, I'm not the person who jumps after a verse like the "Be Still" one to do a devotion about since probably everyone has heard it before, but I've found myself in a place of wanting to get my life back together.  To bust my tail to get my house in order after being bedridden for a couple of weeks.  I'm wanting to push really hard to boot camp my kids' behaviors that have gotten more out of hand lately.  I want to get things done, and I am trying so hard to do it all.  I am kicking butt and taking names with my life this past week.
God is our refuge and strength,
A very present help in trouble.
Therefore we will not fear, though the earth should change
And though the mountains slip into the heart of the sea;
Though its waters roar and foam,
Though the mountains quake at its swelling pride.
There is a river whose streams make glad the city of God,
The holy dwelling places of the Most High.
God is in the midst of her, she will not be moved;
God will help her when morning dawns.
The nations made an uproar, the kingdoms tottered;
He raised His voice, the earth melted.
The LORD of hosts is with us;
The God of Jacob is our stronghold.

Come, behold the works of the LORD,
Who has wrought desolations in the earth.
He makes wars to cease to the end of the earth;
He breaks the bow and cuts the spear in two;
He burns the chariots with fire.
Be Still and know that I am God;
I will be exalted among thenations, I will be exalted in the earth.
– Psalm 46:1-10
I love that.  I love that before He says "Be Still," he reminds us to behold His works.  That in times of trouble, we can literally look at creation, find a still moment, and know that the same voice that can be raised and melt the earth will whisper sweet nothings into our ears.  The same voice that spoke creation into existence and that makes wars to cease will restore my soul.
The NASB version of this verse is actually my favorite.  Instead of the "Be Still" version that we all know and love, it says "Cease Striving."
Have you ever stopped to think that sometimes to really get life back on track and to hear our Father, "our very present help in time of trouble", all we have to do is stop trying so daggum hard?  Stop struggling to figure it all out.  Stop fighting to make sense of sin and crud in the world.  Sometimes we need to just stop worrying about when the mountains slip into the seas in our lives, and be still…cease striving…just quit whatever we're doing and KNOW.
I think it's the Nationwide insurance ad that says "Life comes at you fast," and it sure as heck does, but I love that sometimes all our Father wants for us to do is to take a step outside, look around, breathe Him in, and KNOW that He is God.  Slow it down and KNOW that He is good.  Cease striving… and find rest and restoration in knowing that He calls us His beloved.
It was the first devotion I wrote here…the reminder to simply abide in Him to truly bear fruit.  To not try so hard.  And here it is again…the same lesson for me, for us.  Any other busy gals out there who maybe needed to hear it again?  Yeah…me too.
I'm breathing easier though now, just knowing that I'm about to breathe easier.  The only plan for my vacation is no plan at all.   Remembering and knowing that restoration will come in the still…well friends, I think I'll do that.  Be still and know (and flip over every 30 minutes just so I don't sunburn.)